Autumn Livestream Series 2020 (ii)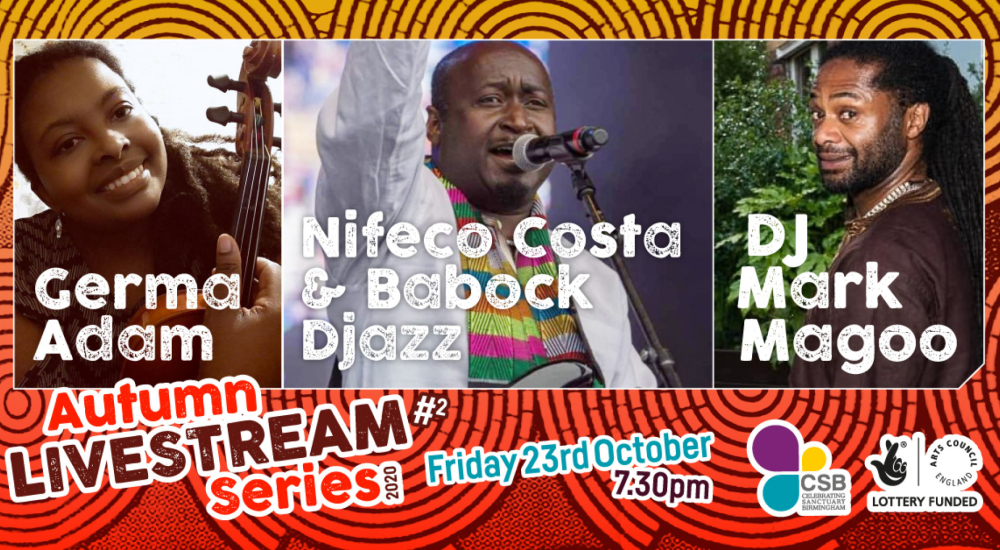 Friday 23rd October 
LiveStream (Online) at 7:30pm
Join us for our second Autumn Live Stream events with Haitian folk artist Germa Adan and from Guinea Bissau the multitalented Nifeco Costa with his band "Babock Djazz"  followed by a World Music set from DJ Mark 'Magoo' Robertson 
Germa Adan
Haitian folk artist known for her ability to write and perform with a strong undercurrent of social consciousness at the heart of her music. Performing a tapestry of ethereal vocal and stringed harmonies, influenced by the overlapping identity of cultures that colour her sound.    Germa performs a duet with Jobe Baker-Sulivan.
Nifeco Costa & Babock Djazz
Songwriter, guitarist and singer from Guinea-Bissau, Nifeco performs with his band "Babock Djazz", a collective of local musicians originating from around the globe.  Nifeco brings beautiful melodies, a sweet voice and an infectuous Latin groove, guaranteed to get people dancing round the living room! 
All events rounded off with a live World Music set from DJ Mark "Magoo" Robertson
Percussionist and musician with many years experience performing in Samba and African drumming groups, such as, Birmingham Afro-Bloc and Urban Vibes before transferring his skills in club nights playing percussion along side Birmingham's finest DJ's.  Having played and taught for many years Mark also DJ's regularly in all the genres he performs in. He will be providing us with a live set for each event to keep the party going.
Details for live stream to follow
https://www.facebook.com/events/1561747590698855