CSB Autumn Bitesize Series with Rihab Azar & Dudley Philips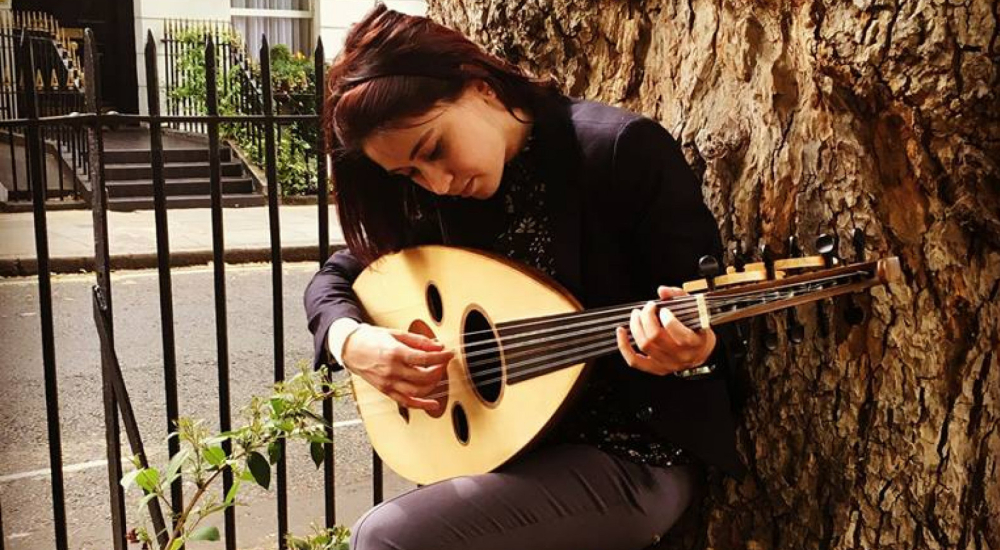 Sunday 12th December                   LiveStream Starts at 3pm
After a fun packed, post lockdown Summer of live events, CSB is excited be back with our Autumn Bitesize Series.  This Autumn we have a wonderful selection of music from around the world, in bite-sized, pre-recorded, live performances.  Get cosy on a Sunday afternoon and tune in to our livestreamed series, or listen later at your leisure.
Rihab Azar & Dudley Philips
Rihab Azar is a Syrian oud player and music educator.  A graduate of the Conservatoire of Damascus, Rihab was the first woman oudist to perform accompanied by the Syrian National Orchestra for Arabic Music (2014).  In 2015, she was a recipient of  a Chevening scholarship which enabled her to study Music Education at Master's level at UCL. Arts Council England Recognised her as a musician of "exceptional promise" (2016). Since 2015, Rihab has been performing around the UK, collaborating on several interdisciplinary and cross-genre projects as well as her involvement in social advocacy. Rihab has been featured on multiple occasions on BBC platforms.
Rihab performed for CSB in 2019 at Ikon Gallery and for Syrian residents in a community setting.  She also produced an Up Close digital performance and workshop as part of CSB's 2021 Refugee Week Online Programme.  We are really excited to be working with Rihab again and to bring her beautiful and heartfelt music to our audiences.
Dudley Philips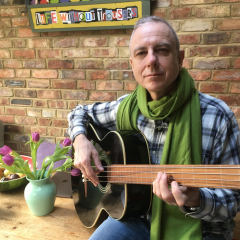 Playing both double and electric bass, Dudley Phillips is a creative musician and composer based in London. 
Working in the fields of contemporary songwriting, jazz and folk/world music, he plays and records with artists from all over the world, both in the UK and abroad, including Canada, Kenya, Japan, Brazil, Spain, France, Italy, Norway and the USA  in addition to the United Kingdom. 

Amongst the many he has toured and recorded with are Robert Wyatt, Bill Withers, Mark Knopfler, June Tabor, Cedar Walton, Marc Almond, John Harle, Tim Robbins, and Amy Winehouse.   

He has contributed to a large body of recorded work, from albums on the legendary Blue Note label to EMI classics, working with many major [and minor!] record labels along the way..... 

Self-taught, he went on to win a scholarship to the Guildhall School of Music .

He has one album of his own 'Life Without Trousers', and has written album tracks for several artists working internationally including Monica Vasconcelos, The Orlando Consort, Perfect Houseplants and Filomena Campus.
Dudley has toured with a huge range of Artists and performed in most areas of the world.

He's also played on many film and TV scores, as well as jingles, and is a visiting performing arts lecturer at Royal Welsh College of Music and Drama, Guildhall School of Music, and Middx University, London
Watch here:
CSB Page - https://www.facebook.com/celsancfest
Youtube - CSB Livestream - https://www.youtube.com/channel/UC1OBGLy2bwNMw-WPLadqRiA