Refugee Week 2023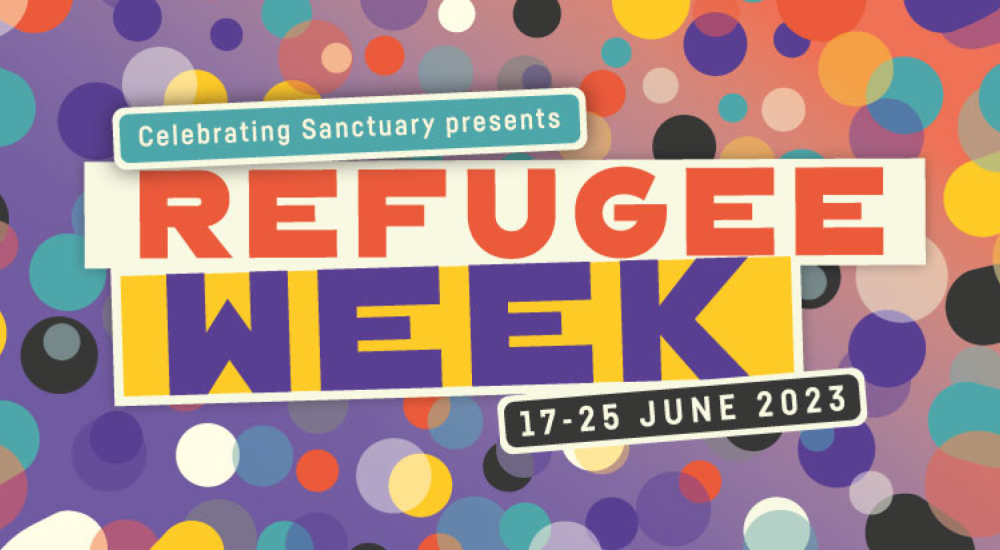 This year's festival of music and art from around the globe is almost upon us.
Refugee Week is an annual event that takes place across the country. We've been hosting Birmingham's celebrations for the last 21 years, it's how we started and will continue to be a huge part of how we grow each year.
This year we're inviting you to celebrate with us at the MAC, Symphony Hall and venues across the city with a programme filled with live music from Ethiopia, Sudan, Kurdistan, Anatolia, Sierra Leone, Poland, Democratic Republic of Congo, Gambia, Zimbabwe, Guinnea-Bissau and more.
They'll also be short films, spoken word, artist commissions and book readings to inspire you.
All of this is free for you to enjoy.
Here's what we have in store for you... 
Compassion in Refugee Week
Fridays 16th and 23rd June - 1.30 – 3.30pm
Prayer at St Martins in the Bull Ring Church
For Personal & Confidential
Erdington Arts - Evening of Creativity
Friday 16th June - 6:30-9:00pm
Oikos Cafe
58 High Street, Erdington
The Evening of Creativity is a monthly extravaganza of art, music, poetry and drama held at Oikos Café in Erdington.This month Erdington Arts Forum is privileged to partner with Celebrating Sanctuary once again! We are inviting a mixture of local and refugee acts to our EoC, and warmly look forward to welcoming you through our doors.
The Evening of Creativity has been running for 6 years and has never missed a month.
Events are also live-streamed to the Active Arts Castle Vale youtube channel.
Pizza for sale.
Booking Tickets Here
Entry £5 on the door (free for refugees!)



24th Meeting of Bosnian Supplementary Schools in Great Britain
17th June       09:30 -1700
Tile Cross Academy, Gressel Lane Birmingham B33 9UF

Programme
9:30 am Registration
10:00 am Welcoming Speeches
10:20 am Performance by children
12:00 Folk Dance
12:30 Lunch
1330 Sport Activities
17:00 Awards
Refugee Week - ESOL Meet Up Mornings
Saturday 17 June - 10:00am– 12:00pm
Brasshouse Languages (inside the Library of Birmingham)
Run by the ESOL Hub Birmingham and aimed at asylum seekers and refugees who would like the opportunity to practise their English in an informal, social setting.
What to expect on the day:
Informal conversation session led by BAES teachers
Coffee or tea with a fresh pastry or cake
The ESOL Hub's friendly charity partners onsite to provide advice and information on issues affecting refugees and asylum seekers - immigration, employment, housing, education and much more
Opportunities to meet other refugees and asylum seekers and make some new friends
Children welcome - free activities
Please book for this free event by following This Link



Czech & Slovak Club UK
Saturday 17th June - 11.30am – 12.45pm
Mac Courtyard
Cannon Hill Park, B12 9QH
A collaboration of dancers and musicians from 5 communities - Slovak, Romanian, Latvian, Czech & Roma.  With performances from:
Slovak Folk ensemble BREZA
Midlands Latvian choir NORA
Romanian community musicians
Czech & Roma Folk 
Procession of all communities at 11:30 from the MAC courtyard to the mini golf and return. Followed by performances from each community within the courtyard.  At 1pm the groups will give a short performance to open the Refugee Week Festival Family event in the Outdoor Arena. No need to book, just turn up.
Refugee Week Festival Family Takeover
Saturday 17th June, 1:00 - 06:00pm
MAC Outdoor Arena 1:00-5.30pm
Cannon Hill Park, B12 9QH
Live music from:
Mohamed Osman (Sudan)
TwoManTing (Sierra Leone / UK)
Karolina Wegrzyn & Banda – (Poland / UK)
Suntou Susso (Gambia)
Plus performances from: Czech and Slovak Group, In Her Shoes, Stories of Hope and Home
Information Stalls, Activities and Workshops
For more information click here
MAC Hexagon Theatre 12:00 – 6:00pm
A programme of short films, spoken word, presentations and book reading
Short films and Artist commissions by refugee and Migrant artists
Looking for You - A short film created by Anna Nguyen & Kristine Landon Smith
Kate Rafiq - "We Are Here" Book reading & Spoken Word
Refugee Rescue - (presentation)
Spoken word from Writers Without Borders
For more information click here



Refugee Week Inclusive Gathering & World Feast Community Meal 
Sunday 18th June - 3:00-6:30pm
Upstairs at The Loft - a special Refugee Week worship gathering will be led by the fabulous Journey LGBTQ+ Asylum Seekers Group.
Following the gathering (from 4:30) you are also invited to join us for a 'World Feast' Bring & Share Community Meal. Please RSVP for the meal via this link.
All who would like to are invited to bring a food items or drinks that represents their culture or just something they really enjoy. We will be supplementing this, so bringing food is not a requirement.
This is a proper FAMILY meal and so we will all pitch in in laying tables, clearing up and there will be opportunities to prepare some recipes together on the day.
.
MILE tour of Birmingham Council House
Mon 19th June, 10:30am – 2:00pm
To celebrate Refugee Week 2023,  MILE project partners, Birmingham City Council and ACH, have organised an event to explore the theme of Compassion in Action. The event will begin with a tour of the Birmingham Council House, followed by activities exploring how we can change compassion into action, and refreshments at ACH offices. The event will start at 10:30am outside the council house, and end at approximately 2pm at ACH, Floor 8, Cobalt Square, Hagley Rd, Birmingham.
It is open to all sanctuary seekers and migrants who have come to live in Birmingham from outside of the UK. Places are limited.
MILE has established a consultative body that has already met with BCC staff to consult on the revised City of Sanctuary policy. The consultative body is an open group and we want to recruit more members. So, if you are interested in engaging with BCC, and participating in decisions about your communities, and are a sanctuary seeker, or migrant,  from outside the UK then please contact us.
To get a place on the tour, or express interest in the consultative group, or both, contact: Dawn Murray – [email protected]
.
Mangoes On The Beach With Peter Chand
Monday 19th June.          6:30pm -7pm
A donation will be greatly appreciated  
Thimblemill Library
Thimblemill Road, Smethwick B67 5RJ
Love...Loss...Separation and the ties that bind a family...
1937.India is still under British rule, and in a small village in the north, a 10 year old boy dreams of a better life. A life of endless opportunity free from the shackles of the castle system, which has imprisoned his family for a long as long as anyone can remember.
British Indian storyteller Peter Chand has taken the story of his parents journey from the Punjab to England in the 1950s and seamlessly woven it  with traditional Indian folk tales. The result is a unique performance that is moving witty and thoughtful and delivered with great skill  by one of Europe's most accomplished storytellers.
This little nonstory of migration has stirred audiences the length and breadth of Britain and also Greece, Norway, Canada, Austria, and the Netherlands.
'He's a bridge between two cultures in two generations… I will spellbound' [Kim Normanton, producer, Loftus productions for BBC 4]
**Suitable for adults and 12 years and over**
.
Late Night Exchange: World Refugee Day
Tuesday 20th June - 6:00-9:00pm
The Exchange
3 Centenary Square, Birmingham B1 2DR
This special Late event marks World Refugee Day. Join us at The Exchange for talks, performances, films and drop-in activities to learn more about the experience of refugees, honour the contributions that refugees have made to their communities and advocate for the rights and protection of refugees worldwide.
Our varied and thought-provoking programme includes:
A panel discussion chaired by Professor Nando Sigon, Stories of Hope and Home, individuals with lived experience who have sought sanctuary in Birmingham
Nahal Music Group of migrant children led by Sara Teymouri
A Viewing of "Not a single safe place", a series of powerful films featuring testimony from survivors in Ukraine and Poland
Music from Zimbabwean musician - Millicent Chapanda
For more information and booking please follow This Link



Writing workshop with Anthony Anaxagorou
20 June 2023, 12.00-15.00
Centre for Migration and Forced Displacement
Aston University, Birmingham, B4 7ET
This is a free, invite-only writing workshop with the poet Anthony Anaxagorou. Participants will take part in a creative writing workshop led by Anthony and themed around migration. The participants are a mix of academics, students and people of refugee backgrounds.
We encourage participants to contact us if they are keen to attend, and anyone who wishes to nominate someone they work with, support or know, whom they think would be interested. We will be able to cover Birmingham and West Midlands travel costs for unwaged, and/or sanctuary seekers.
For more information please contact:
Live at B:Eats for Refugee Week
Symphony Hall – B:Eats Cafe
Inside the International Convention Centre, Broad St, Birmingham B1 2EA
In the lead up to our Refugee Week Takeover event on Saturday 24th, we are putting on 2 great musicians during the week at B:Eats Cafe in the Foyer at Symphony Hall
In Her Shoes - Creative Journeys Project
Thursday 22nd June, 10.30am -12.30pm (with lunch from 12.30-1.30)
Moseley Exchange
149-153 Alcester Rd, Birmingham B13 8JP
This is a women only event -Book a Space Here
We would like to invite you to join the celebration of our Creative Journeys project.  We will be sharing the songs created with women in Birmingham as part of the Birmingham 2022 Festival in a celebration workshop. The songs have been re-imagined with over 40 diverse women and our guest musicians who have brought new rhythms, beats and styles of music. Come and join in with our In Her Shoes musicians Ann Jones and Katy Bennett supported by Joelle Barker on drums. This will be a fun, lively and moving way to spend your Thursday morning!
This project is supported by Birmingham City Council Arts Commissioning as part of the Legacy 2022 funding and is free to attend. Please book a place using Eventbrite and share with any women you feel would like to attend. We welcome donations that will support the on-going work of In Her Shoes.
We hope to see you on 22nd June



My Birmingham - Birch Network
Photography Exhibition and event
Thursday 22nd June - 4:00-8.30pm
Centrala
Unit 4 Minerva Works, 158 Fazeley St, Birmingham B5 5RT
An exhibition of photographs by Birch Network service users will be displayed with the photographers present to engage the public in conversations prompted by the work. There will be interpreters on hand to help with conversations.  With live music from 'In her Shoes', singing songs written by refugee women.
Plus activities and refreshments
Free Jazz Friday for Refugee Week
Symphony Hall's Jennifer Blackwell Space
Inside the International Convention Centre, Broad St, Birmingham B1 2EA
Friday 23rd June - 5:00-6.30pm
Free event Booking essential - please Book Tickets Here 
Collaboration between Niwel Tsumbu, Didier Kisala & Steve Tromans
Celebrating Sanctuary are teaming up with B:Music and Free Jazz Friday as part of our Refugee Week Festival, to present an international collaboration between Congolese musicians Niwel Tsumbu and Didier Kisala with pianist Dr Steve Tromans.
In The Shadow of the Trees
By: Stories of Hope and Home
Friday 23rd June - 7:00pm
The Door, Birmingham Rep
Centenary Square, B1 2EP
Written and performed by members of Stories of Hope and Home, "In The Shadow of the Trees" is based on our personal stories of seeking sanctuary. It uses the trees that have been the backdrop for our stories to explore memories of the places left behind, the places passed through on the journey, and the places where we are gradually finding a new home and creating dreams for the future.
To find out more about Stories of Hope and Home please follow This Link



March for Compassion
Saturday 24th June - 10.15am
Birmingham City Centre
Meeting at Waterstones 10:00am
March to Birmingham's Get-together for Compassion in Centenary Square
Let's walk through Birmingham city centre to show our solidarity with refugees and people seeking asylum.
#RefugeesWelcome
Bring your own placards



Refugee Week Symphony Hall Takeover
Symphony Hall's Jennifer Blackwell Space
Inside the International Convention Centre, Broad St, Birmingham B1 2EA
Saturday 24th June - 10:00am – 5.30pm
Yoga with live music in the Main Auditorium 
10:00 - 11:00am       Booking Essential 
Join Iyengar yoga teacher Julie Baker in the iconic Main Auditorium of Symphony Hall, for an organic yoga session on the stage. Accompanied by live music from Mbira player and singer Millicent Chapanda and Tabla player Mendi Mohinder Singh.
For more information and booking please visit
Live Music from around the world In the Jennifer Blackwell Space 2:00-5:00pm
Melisa Yıldırım & Swarupa Ananth (Anatolia / India) - 2.15
Nifeco Costa & Babock Djazz (Guinea Bissau) - 3.05
Krar Collective (Ethiopia) – 4pm
Information stalls, arts and crafts
For more information please follow The Link



Birmingham Communities get-together for Compassion
Saturday 24thJune 11:00am – 2:00pm
Centenary Square
BCC is holding a city centre event to celebrate Refugee Week. A professional stage will feature world music from Celebrating Sanctuary, and music, song, dance and poetry that celebrates the diverse cultures of Birmingham. A market area will provide stalls with information about asylum and migration, and other wellbeing services and organisations in the city.
The event will be compered by Amerah Saleh (who performed at the CWG) and will include performances from Congolese, Arabic, Ukrainian, Kurdish, Roma, Bulgarian and Slovak musicians and dancers; a Chinese Lion dance; spoken word from Amerah Saleh; and the Birmingham City Council Choir will make this a party not to be missed.
CSB Present performances from:
Iryna Muha
Didier Kisala & Niwel Tsumbu
Zirak Hamad and Daholl Kurdish Band



Congolese Independence Day event
MAC – Cannon Hill Park
24th June - 4:00 - 8:00pm
The Congolese Independence Day Celebration shines a light on the beautiful, diverse culture from theDemocratic Republic of Congo (DRC).
Join us for an entertaining afternoon showcasing talent from the local Congolese community with music, dance and fashion.
Line-up for the day includes Didier Kisala and Niwel Tsumbu.
For more information and to Book Tickets, please visit Here



Black Country Type: PhotoWalk for Ukrainians
Saturday 24th June         12 - 2pm
Free Event   Book Here
Centrala 
Unit 4 Minerva Works, 158 Fazeley St, Birmingham B5 5RT
In collaboration with Post-Socialist Britain? We have organised a PhotoWalk with Artist Tom Hicks for Ukrainians as part of Refugee Week, celebrating the contributions, creativity and resilience of refugees and those seeking sanctuary.
Black Country Type is a photography project led by Artist Tom Hicks and shared from his influential Instagram account @blackcountrytype. Through his photography, Tom applies his unique perspective to the region, focusing on words, typography, handmade lettering and signs. His photography also captures types of architectural features and buildings in the ever-evolving Black Country landscape.
Post-Socialist Britain?: Memory, Representation and Political Identity amongst German, Polish and Ukrainian Immigrants in the UK explore the connection between memory and identity in the context of migration with a particular focus on movers from Central, East and Southeast Europe and their integration into diverse communities. The project thinks about how the changes brought about by the end of the Cold War mean that Britain can itself be thought of as a "postsocialist" space.
This event will be a great space for you to come together and share your ideas as well as uncover Digbeths Heritage, and an opportunity to contribute your own stories to the work of Post-Socialist Britain.
This Event is FREE for Everyone, please reserve your spaces now.
There will also be a follow-up feedback session on the 15th of July, more information coming soon.
Face Front Theatre: The Hero Next Door by Onjali Q. Raúf
25th June – shows at 2:30 & 5:00pm
MAC – Cannon Hill Park
From the award-winning author of 'The Boy At The Back Of The Class', Onjali Raúf, 'The Hero Next Door' is a celebration of difference and working together to do the right thing.
This new play, based on real insight from children across the UK, was developed during extensive research as groups of children helped shape the plot and the characters. The result is a ground-breaking new production created especially for 7 – 10 year olds.
The play explores the themes of friendship, empathy, and the notions of what it means to be an 'outsider'.
Mac is delighted to confirm that Onjali Q Rauf, writer of The Hero Next Door, award-winning author of The Boy At The Back Of The Class and activist will be joining us to sign books and meet audiences AFTER the 5pm performance of The Hero Next Door as part of our Refugee Week events.
For more information and to Book Tickets, please Visit Here