We Are Birmingham 2022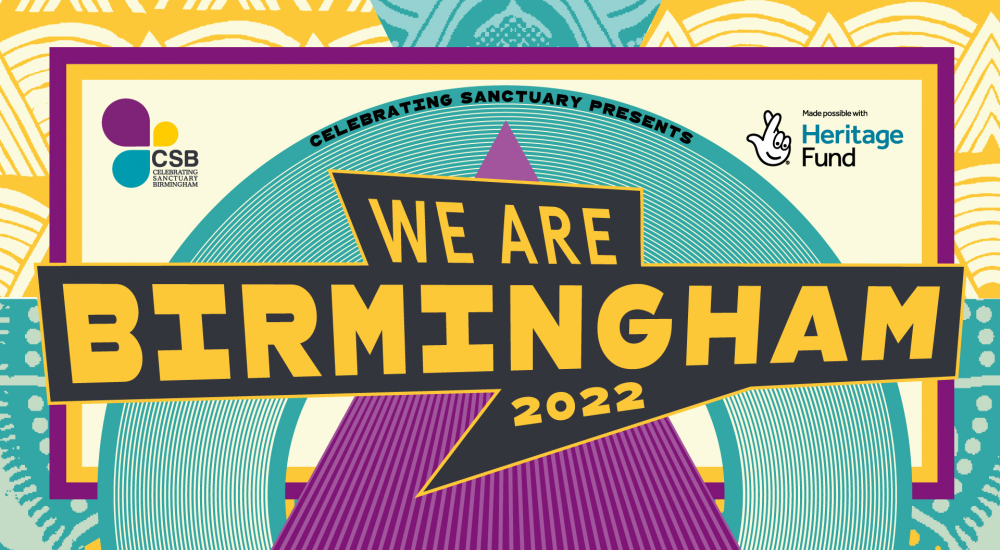 2022 was our 20th Anniversary and to mark the occasion we launched a year long program called 'We Are Birmingham 2022'.

The programme was an opportunity to reflect on 20 years of diversity and culture in Birmingham's Music and Arts Scene, showcasing the work of musicians and artists from refugee and migrant backgrounds.
Funded through The National Lottery Heritage Fund we ran three main projects throughout the year:
Self Portraits Project – reflecting the diversity of Birmingham
Documentation Project – looking back over 20 years of Celebrating Sanctuary
Art Project – creative expression about Birmingham in 2022
There was a roster of live and online events, including partnerships with some of the city's most iconic venues, such as, Symphony Hall, Ikon Gallery, Library of Birmingham, Mac, Aston Hall and many more.
We Are Birmingham 2022 - Launch Event!
Recording from our Symphony Hall Series Launch in December 2021. 
With performances from: Germa Adan (Haiti), Ava (Iran & UK), Nifeco Costa & Babock Djazz (Guinea Bissau), Kuda Matimba & Harare (Zimbabwe), Millicent Chapanda and Sid Peacock (Zimbabwe / Northern Ireland).  Edited by: Simon King
The Programme
You can read about each of the events and activities in the programme here.
Self Portraits
In partnership with photographer Brian Homer.
The project started in April, for over 2 months Brian and team travelled to multiple locations across the city inviting people and communities from all backgrounds, to document themselves with self portraits. The aim of the project is to reflect the diversity of Birmingham and give visibility to our refugee and migrant communities.
The photographs were done in the style of Brian's famous 1979 project 'Handsworth Self Portrait', and "Birmingham Self Portraits" held at the Library of Birmingham in 2011.
We worked with around 300 people and held sessions with: Women With Hope, Centrala, South & City College – Handsworth Campus, Erdington Secret Arts Space, Erdington Six Ways Baptist Church, Symphony Hall and Aston Hall.
To showcase the immense diversity of the city's people, we curated a collection of these self portraits into an exhibition which was launched at the prominent Library of Birmingham on 18th June in conjunction with our 20 Years of Birmingham Refugee Week Festival.
Self Portraits Exhibition
Exhibition 18th June - 18th July
Library of Birmingham, digital wall
Watch below:
History of CSB - Documentation Project & Archive
To trace and document the work of Celebrating Sanctuary over the last 20 years.
We worked with Artist and Documenter Jo Loki, who lead on the project to advise and curate the collection into an archive and presentation.  Sifting through 20 years of information, photographs and ephemera, and conducting interviews, Jo created an archive we can be really proud of.
History of CSB - Exhibition and Short Film
Through the project we talked to many people about their involvement with CSB over the years, and recorded interviews not only with former and current staff, board members and partners.  But also with refugee and migrant artists we have worked with and refugee groups who have participated in our activities.  A selection of these interviews were edited into a short film alongside photographs from the archive.
A collection of photographs showing a pictorial account of the last 20 years, were presented as an exhibition at Symphony Hall as part of the Finale event, curated by Jo Loki.
Watch A History of CSB
Art Projects
We ran a series of art workshops with artists Naziah Angel Bottley of Angel Arts and Robbie Dalal at a variety of locations in Birmingham, with groups of refugees, asylum seekers and the wider community.  Working with approximately 200 people throughout the project, everyone who took part had the opportunity to explore art materials and techniques, get creative and have fun.
The running theme of the series was "what does Birmingham mean to you?" this question was used to inspire individual and group art pieces which all participants could contribute to.
We asked them how they saw Birmingham, what it meant to them and how they felt about it.  Some expressed it through images and some through words, but all the work created is a reflection of the diversity, creativity and expression of Birmingham communities in 2022.
To facilitate the series we worked with: Handsworth college ESOL groups, Centrala (open sessions), Stories of Hope and Home group at Carrs Lane Church, ISRA UK, Restore men's group at Centrala, Gas Street St Lukes, Thimblemill Library (open session), Restore Women's Group at The Edge, Selly Manor Museum (open session), Refugee Action (Rowton Hotel group) at The Edge.
You can see some of the work created in these sessions in our online gallery.
Funded by National Lottery Heritage Fund