Events Series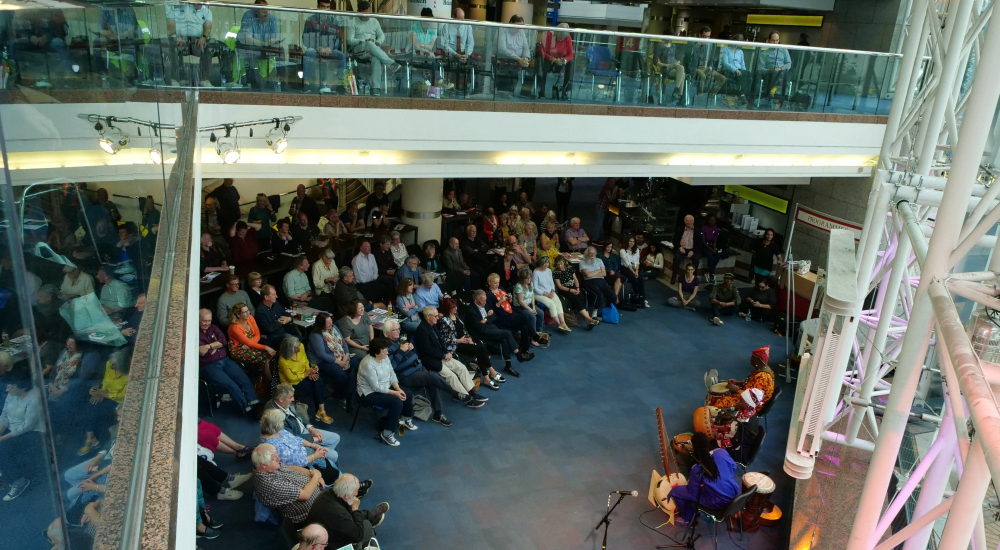 CSB World Music and Arts events

CSB presents Birmingham audiences with an ongoing series of World Music events and an annual Refugee Week Festival across a range of venues. We programme and involve top musicians from around the world, based locally, nationally and internationally. This is an ever growing platform for artists and in recent years has broadened to reach new live and online audiences. We have developed a reputation for running high quality events that present diversity in music and culture, and have attracted audiences of over 45,000 and employed over 1500 artists.
We work with and promote local and national artists from refugee and migrant backgrounds, many of who are regular contributors to our programme. We offer audiences a broad range of musical styles from traditional to contemporary, reflecting cultures and experiences from across the globe.
Partnerships
We have worked with a range of partners to enhance our programme, such as: Ikon, Birmingham Museum & Art Gallery (BMAG), B:Music - Symphony Hall, Library of Birmingham (LoB), MAC, SURGE Forward, Compton Verney Art Gallery, 1000 Trades, Midlands World Music Consortium, Near Neighbours, Moseley Folk, Friction Arts, Ort Gallery, and many more. We are always developing new partnerships which help us to reach new audiences for CSB and the artists we support.
New Partnerships for 2022
B:Music - Lunchtime Concerts at Symphony Hall
Monthly series of lunchtime events in the Jennifer Blackwell Performance Space at Symphony Hall, showcasing highly acclaimed artists from across the UK.
1000 Trades – Night Tales at 1000 Trades
A new series of bi-monthly events at 1000 Trades in the Jewellery Quarter. Vibrant and inspiring performances on a Thursday evening starting in May 2022.
Compton Verney Art Gallery
Bringing the galleries to life with inspiring musical performances and collaborations.
Ikon Gallery
Working in partnership with Ikon Gallery for Refugee Week and the Ikon Migrant Festival in July (14th - 17th)

Online Events
Since 2020 CSB has developed a digital programme of content and regular events.
All of our previous events are online and available to watch again
Bitesize events Autumn 2021

See our Gigs and Events to find out what's coming up live and online