Ahmed Magare - Featured Artists 2021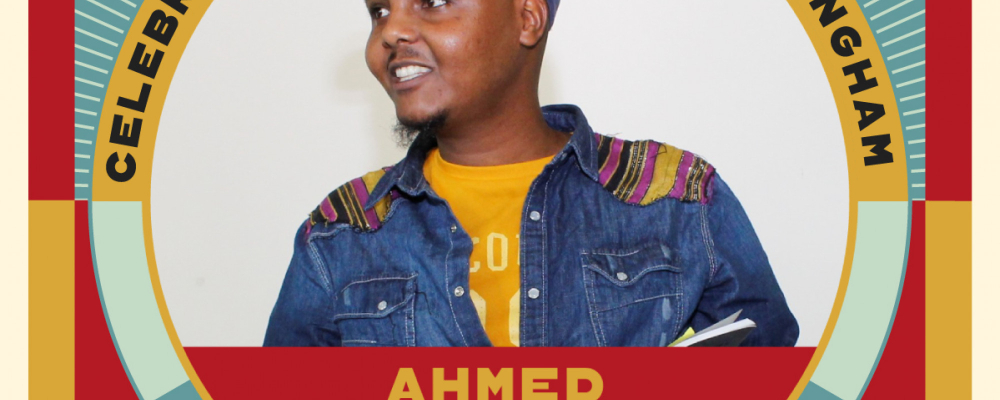 Ahmed Magare is a Somali born artist, poet and spoken word artist. He spent many years in Holland before settling in the UK and completing his Fine Art BA (Hons) at Birmingham City University. Ahmed has performed his spoken word on many platforms and collaborated with musicians and singers for many events. He has exhibited his artwork and published 2 books of poetry with artwork, he also co-produced a film about the Somali Community in Birmingham. In 2019 he hosted his own exhibition and events at Ort Gallery in Balsall Heath. Ahmed is a regular contributor to CSB having performed his spoken word at CSB events, seminars and exhibitions at venues such as Birmingham Museum & Art Gallery, Ikon Gallery, Library of Birmingham, MAC, Ort Cafe.
Ahmed was commissioned by Celebrating Sanctuary to create a new spoken word piece and artwork for Refugee Week 2021, in response to this year's theme We Cannot Walk Alone.
We Cannot Walk Alone
By Ahmed Magare
There is sun dust
When the sun goes
Departed
More towards the east
It's raging inside
A side so lonely
Yet you smile with shining sun
Questioning the world we love
You are here
Not home found
Little did we care about the little things
Simplicity preserved in the slippery cracks of your palms
Breathe more open
And in this living
Made the breathing light
Seem unimportant
Not in difficult times
We hide together
Some are faced with more truths
While some hide truth of others
They live longer
Until it's too late
We must walk together
Together for humanity
Different shades for different struggles
Together, one, touch, unforgettable air and small-discoveries
Do we see the same injustice?
We give the sky a different name
A different blue
The meanest of blues
I leave it with you
Tears and rainwater were once sisters
Now ever distant - they sing songs to each other, spiritually twinning, together
Tears are soft supplication to the blessing of rainwater
I'm missing the touch of simple thing
Our alphabet of arteries
Is art within us
Gritty alleys
Neon leaves
Clay hands
Shallow tongues, spit the three middle letters of "death"
Eat!
Everlasting hunger
Everlasting desire
Not one of us is safe here, only by the Mercy of Love
Can we walk together?
Can we walk together?
Can we walk together?
Underneath a shade of sun dust