CSB Refugee Week Festival 2018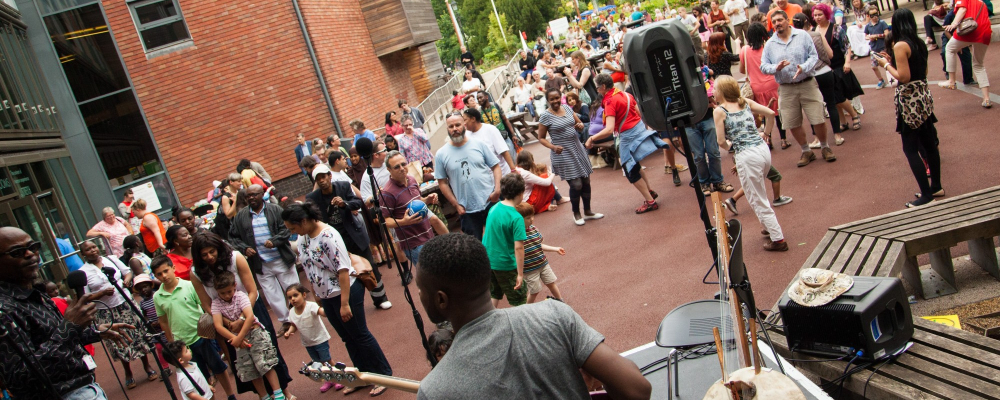 This year, our 20th anniversary refugee week celebrations were a huge success. Scattered across the city, our events drew in diverse audiences and highlighted the wonderful artistic talent we have here in Birmingham. Through fantastic collaborations, CSB presented a week filled with music, laughter and lots of dancing in the celebration of the contributions of refugees and asylum seekers to the UK.

The week started off with a sneaky peak of the Ikon Gallery Slow Boat Residencies which took place a few weeks later. Several of our artists talked about their own musical traditions and what to expect during the residencies, followed by short performances. Kadialy Kouyate, who performed on the boat, later performed at the Yorks Café for an intimate setting of music and food.

Thursday was an exciting day of spoken word, music and dancing at the Birmingham Museum and Art Gallery. Set in the exquisite surroundings of the round room, visitors were drawn in by the powerful words of the 'Writers Without Borders' and the moving music of Sisters in Mbira and Afro Mio. Several stalls and a workshop by Salma Zulfiqar were set up to help visitors discover more about the week's celebrations.

Friday evening was a jazz-filled extravaganza thanks to Tony Dudu and Gumbe Jazz, who drew in a large crowd at Jazzlines, Symphony Hall. Later that night, they performed another amazing set at the Ort Café, after a fantastic set by Didier Kisala and band. We danced the night away to cowbell grooves and impressive guitar solo licks.
To end the week, we hosted our refugee week festival at the MAC. It was a real success, with amazing performances and many stalls and activities. It created a wonderful space for the local community and refugees and asylum seekers to celebrate refugee week. With an exciting line-up, our outdoor stage hosted a wonderful array of musics from around the world.

The Refugee Choir swiftly got everyone up and singing, followed by Layla Tutt who was rocking out on stage. Afro Mio's set some salsa moves before Iryna Muha sang some beautiful Ukrainian songs . A chilled out set by culture dub orchestra got the little ones dancing, followed by a wonderful performance of Oud and the charismatic voice of Hassan Salih Nour. The last performance on the outdoor stage was led by Millicent, Anna and Chartwell on the Mbira, getting our audience to sing traditional Zimbabwean songs. To finish off the day, Nifeco Costa with a guest appearance from Tony Dudu on guitar. This was followed by the show stopping performance of The Redeemed. A 9 piece line up from the much bigger collective, treated us to infectious rhythms, great singing and some amazing dance moves. They had the audience up and dancing, which was a great end to a wonderful week of events. The week was a true celebration of Birmingham and the special contributions of refugees and asylum seekers.
Thanks to all our stalls who included Migrant Help, British Red Cross, BIRCH Network, Meena, Hope Projects and Near Neighbours. Our partnership with City of Sanctuary enabled refugees and asylum seekers to attend our events over the course of the week, including the Jazzlines event and our refugee week festival.

Our events were kindly supported by The National Lottery through ACE, The John Feeney Charitable Trust, The Cole Trust, Near Neighbours, MAC, Ikon Gallery, BMAG, Migrant Help, Symphony Hall Jazzlines and the Ort Café.