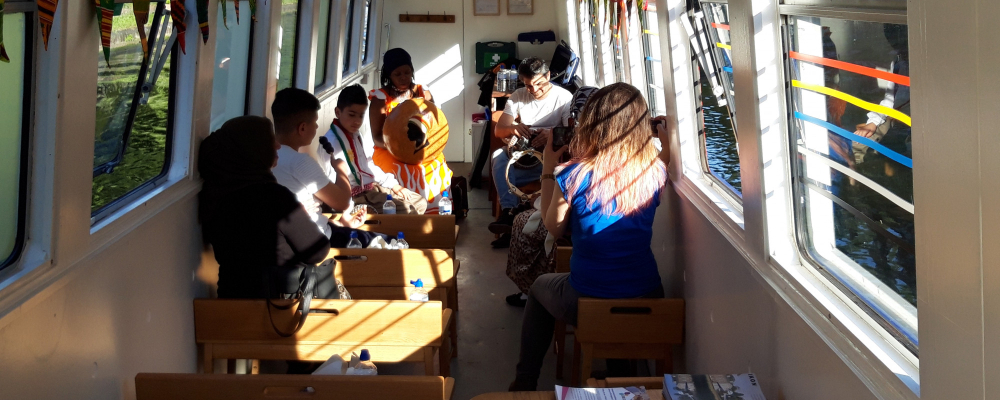 World Music Voyages
In Partnership with Ikon
CSB took groups of refugees and asylum seekers, as well as members of the public on the Ikon Slow Boat for a trip along the canal listening to delightful performances of World Music. Groups from Hope Projects, Women With hope, Restore, ALBA LBT and Culture Connect Syrian Group took part in workshops, enjoyed the peaceful experience of travelling along the canal, listened and joined in with music, singing, and sometimes dance.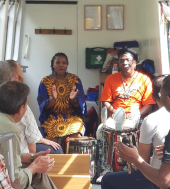 The partnership with IKON Gallery was a socially responsive programme which offered a vehicle for greater understanding of the experiences of refugees and new arrivals to the city through artist residencies in a cosy, fun and inclusive safe space. There were 5 sessions with different groups who all brought their unique vibes, energies and were eager to join in.
This was an opportunity to meet the artists' in up-close and inclusive 'hands-on' workshops and participatory performances. The experienced world-class artists got everyone to join the infectious melodies and rhythms in both song and dance, actively learning and sharing about their musical practices, instrumentation and stories that came with them. The workshops and performances were led by; Germa Adan - a Haitian folk artist instrumentalist and singer-songwriter, Zirak Hamad - a violinist, singer, dancer and drummer from Iraqi Kurdistan, Henri Gaobi - a master drummer and percussionist from Ivory Coast and Millicent Chapanda - a Mbira player, percussionist, dancer and singer from Zimbabwe.
https://www.ikon-gallery.org/event/world-music-voyage/