Ideas Of Noise 07 Feb 2020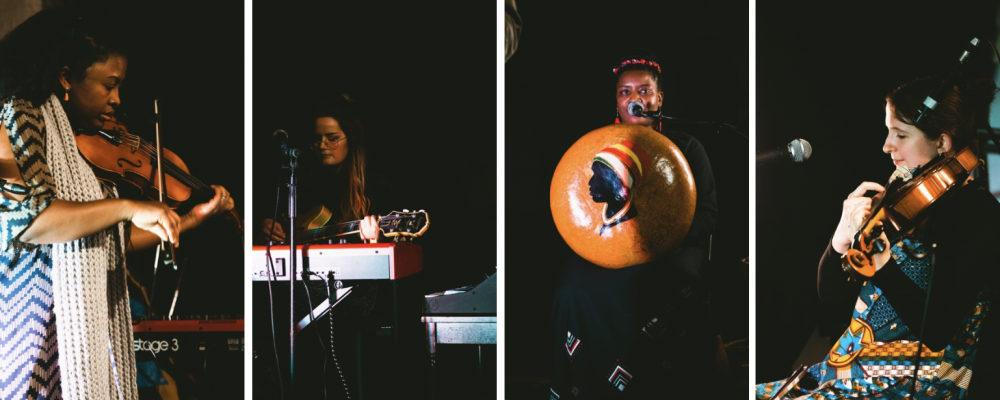 This years Ideas of Noise and Celebrating Sanctuary Birmingham Collaboration festival was held at the Edge (As part of Ideas of Noise Festival 2020)
Female artist partnership with: (Millicent, Germa, Stella Roberts & Natalie Mason)

Building on last year's success, IoN and CSB present a brand new intercultural collaboration from four Birmingham based musicians. Combining folk influences from Haiti, Zimbabwe, UK and America with strings, percussion, synths, electronics and vocal explorations, come and hear some never-heard-before music from some of the region's most exciting musicians.

GERMA ADAN
- a Haitian folk artist known for her ability to write and perform in the style of a storyteller with a strong undercurrent of social consciousness at the heart of her music and a desire to explore themes of the past and the modern day.
STELLA ROBERTS
- a Birmingham based pianist & composer, Roberts intertwines her jazz experience with left-field experimentalism, bringing wild combinations of analogue & digital synths to both Birmingham band Dorcha and her synth-groove duo project Joybang.
MILLICENT CHAPANDA
- is a proud cultural artist with a vibrant mission to bring the lived experience of women in Zimbabwe onto international world music stages. Her music is a celebration of rich African tradition embodied in a Shona-style.

NATALIE MASON
- writes intricate instrumentals and surreal songs about times in Birmingham and beyond, while playing as many instruments as she can get a-hold of. She plays in Kamura Obscura and curates alternative music night Club Integral Midlands Branch.
Photo Credit: Guri Bosh