CSB Bitesize - Spring Series Mar - May 2021 (Watch Again)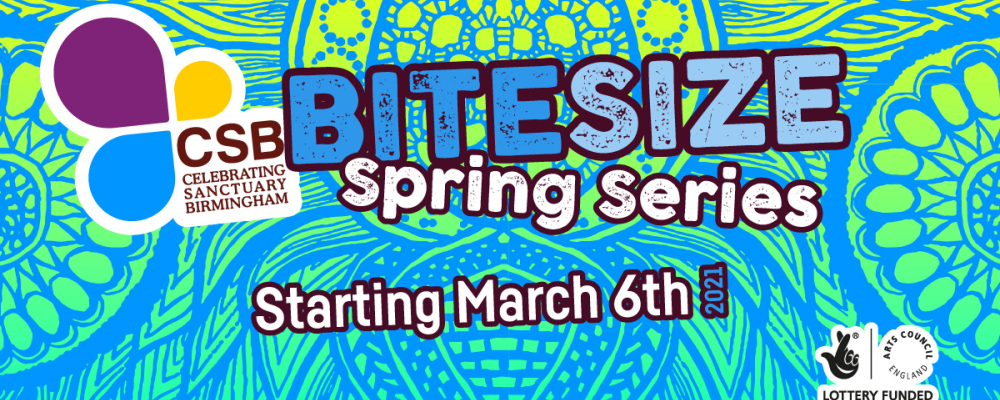 CSB Bitesize - Spring Series 06 March - May 2021
Presenting:
Millicent Chapanda (Zimbabwe) 
Elias Kacomanolis (Mozambique)
Ilias Lintzos (Greece) Ava Band
Mina Fatemi & John Berry (Ango-Persian)
Niwel Tsumbu & Éamonn Cagney  (DR Congo - Ireland)
Amadou Diagne (Senegal)
Millicent Chapanda - Saturday 6th March
WATCH AGAIN: Millicent Chapanda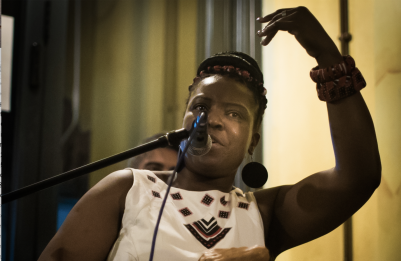 Millicent Chapanda is a Zimbabwean musician and creative cultural artist, mbira player, singer dancer and percussionist.   Join us for a captivating and spellbinding performance of Mbira and song with engaging rhythms from the deep cultural well and heritage of Zimbabwe.  Recorded at home in lockdown Millicent brings the lived experience of women in Zimbabwe onto world music stages across the globe.
"The only way I can describe what I do, is that I love our music…it brings people together and we just forget about everything else!"
Elias Kacomanolis - Saturday March 20th 7pm
WATCH AGAIN: Elias Kacomanolis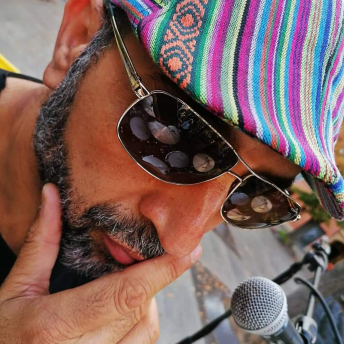 Elias Kacomanolis is a self-taught professional drummer & percussionist, born in Mozambique.  At age 10, civil war broke out and his family moved to Portugal, where Elias started performing in local bands from the age of 12.  From there he moved on to becoming a professional drummer, playing, African dance music, Western pop-rock, Latin, Reggae and later on Jazz.  He broadened his expertise to include backing and lead vocals. 
Elias moved to the UK in 2006 and is now an Internationally renowned drummer, percussionist, teacher and arranger.  His inspiration comes from his African roots mixed with European and Latin music.  Elias has performed with a diversity of artists and bands, touring worldwide. Recently he has been touring with Afro-Jazz  artist Carmen Souza, performing with Ngumbe Jazz, La Tocha, La Tinto Bros, Afro-Samba Trio and preparing his own project" Almadia" which consists of a live percussion set collaboration with special guests ( DJ, Saxophone, Bass, Guitar, Singer, Piano or any other instrument) interacting with the audience..
"Featuring musicians from Mozambique (Elias Kacomanolis – also recording/ touring drummer for MoBo, Best African Act, nominated Waldemar Bastos) and Switzerland as well as England, Scotland and Wales, Out of the Blue is a deep, lush mix of influences as varied as the people who made it"-Folk Roots and Traditional Music Magazine-
"After the anodyne arrangements for Pablo Milanês's band the previous week,the vivacity of Bastos's group came as a double pleasure especially with an immaculate drummer who could find so much to say without wandering far from the hi-hat cymbal"- The Times- Barbican Hall, London.
Ilias Lintzos - Saturday 3rd April
WATCH AGAIN: Ilias Lintzos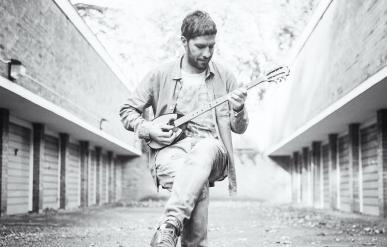 Ilias Lintzos is a multi-instrumentalist, pro-drummer, and producer from Greece, based in Birmingham. He is involved in many musical projects and has released seven personal albums. His solo project is an acoustic journey back to his roots, blended with musical influences from all around the world.  Ilias is performing for us on Tzouras and Percussion and is joined by Tim Botfield on Mandolin, Guitar and Irish Bouzouki, and Johannes Norris-Brown on Guitar and Mandolin.  We hope you enjoy this beautiful performance as it takes you on a musical journey!
.
Amadou Diagne - Saturday 17th April 7pm
WATCH AGAIN: Amadou Diagne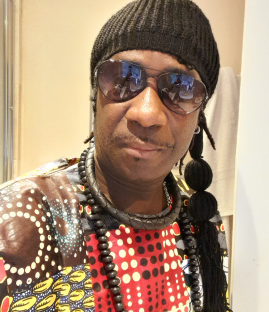 Amadou Diagne is a Senegalese musician descended from a Griot line of percussionists and singers in Dakar.  His talent as a percussionist led him to becoming a member of l'Orchestre National du Senegal, also performing with some of West Africa's top artists.   Since moving to the UK Amadou has forged his own musical identity as a singer, songwriter, and multi instrumentalist drawing on the traditional music and rhythms of West Africa.  He writes and performs in Wolof, French and English, and as a guitarist has developed a unique and intricate style which draws on his skills as a percussionist. Amadou has a love of improvisation and an eclectic musical inspiration when playing, exploring the instrument delighting in the rhythmic possibilities within the melodies he composes.
Amadou's music has attracted global airplay on radio and television and he has recorded and released albums of his music, the second of which reached no.16 in the European World Music charts. His following release got a four star review in Songlines Magazine, and top pick playlist review in Folk Roots, plus inclusion of a track in fRoots's compilation.
"Honey-smoked vocals …Plaintive, acoustic and brimming with an unhurried assurance." Jamie Renton, fROOTS Magazine
Mina Fatemi & John Berry (Ango-Persian) - Saturday 1st May 7pm 
WATCH AGAIN: Mina Fatemi & John Berry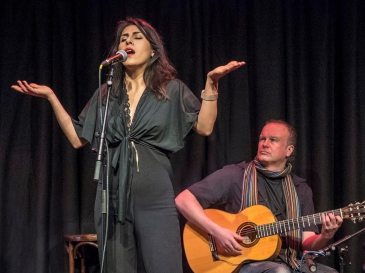 For the next installment of our Bitesize series we bring you the captivating music of Ava Band, performing for us for the first time and in lockdown!
Ava is an Anglo-Persian group who play mainly original compositions, a fusion of Persian vocals accompanied by kora and flamenco guitar, and before the lockdown, violin, flute and hand percussion. Ava is usually a five-piece group, but due to the pandemic they have been restricted to playing as a duet.  The 'lockdown' line-up comprises of: Mina Fatemi – Vocals and John Berry – Guitar.
Mina, is an Iranian singer who performs in her native language, Farsi, with an emotive and poetic delivery that never fails to move the audience.   John Berry has an extensive history of musical collaborations, having played in Salmagundi, a World Music ensemble, as well as with Sura Susso, a West African griot from The Gambia, as well as many other musicians.
We hope you enjoyed this inspiring and delightful performance.
Niwel Tsumbu (DR Congo) & Éamonn Cagney (Ireland) - Saturday 15th May 7pm
WATCH AGAIN: Niwel Tsumbu & Éamonn Cagney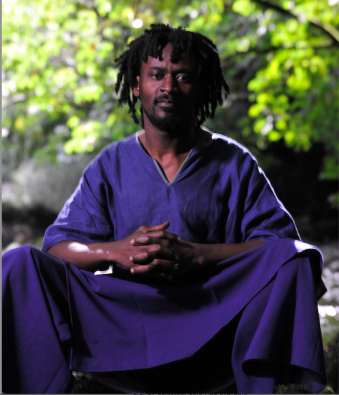 The series ended on a real high with highly acclaimed partnership of Niwel Tsumbu and Éamonn Cagney. Niwel and Éamonn are known for their incredible musicianship and exciting performances.  Their 15 year collaboration has been described as "cutting edge cross cultural performance" "a spectacular and grove-laden show".  
Niwel Tsumbu - Congolese virtuoso guitarist, composer, singer.  An engaging and innovative musician, hailed as "an exceptional guitar player", Niwel has collaborated with many celebrated musicians such as: Sinéad O'Connor, Baaba Maal, Richard Bona and Nigel Kennedy to name a but a few.
Éamonn Cagney - Irish percussionist, composer, performer.  Established as one of Ireland's premiere musicians, leading his own groups Treelan and RITHIM.  With a deep knowledge of World Music, Jazz, Irish Traditional, and other styles, he has performed worldwide for over 20 years.
.
We hope you enjoyed this exciting musical fusion!
Celebrating Sanctuary Birmingham Supported by ACE