Night Tales at 1000 Trades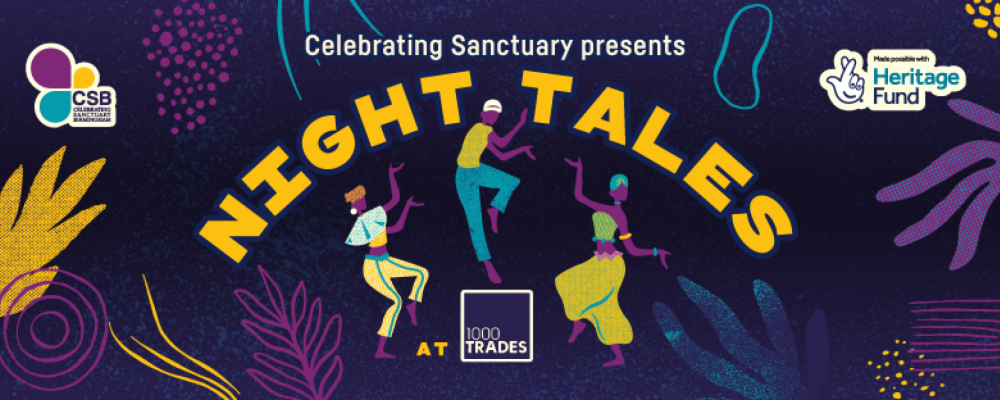 We are so excited to present to you this new series of events in partnership with 1000 Trades in the Jewellery Quarter - 'Night Tales!'.
Come and join us for musical tales by night - expect traditional musical rhythms of west Africa; delicate rhythm and harmonies from Haiti; Cuban beats from Eastern Europe and entrancing vocals interspersed with stories of tradition, freedom and sanctuary from around the world.
Launch
Touki – Amadou Diagne & Cory Seznec (Senegal / France)
Support: Germa Adan (solo) - (Haiti)
Thursday 19th May
Doors 7.30pm
Entry £5
A chance encounter between buskers in Bath, brought together Amadou Diagne from Senegal and French-American Cory Seznec AKA Touki.  Life embarked them on different touki (journey in Wolof), but over a decade on and this encounter has lead to a new musical adventure. The result is a highly original project borne of a genuine dream to bring different worlds together through music. Here the kora dances playfully with and around the banjo and guitar, the calabash and other percussion add powerful, driving beats, and silky voices entrance the listener. The influences are many, and rather than remaining in any one tradition, the touki - the musical voyage itself - is the destination.



Germa Adan with band (Haiti)
Thursday 7th July
Doors 7.30pm
Entry £5
A Haitian folk artist known for her ability to write and perform in the style of a storyteller with a strong undercurrent of social consciousness at the heart of her music. 
She writes and  performs a tapestry of ethereal vocal and stringed harmonies, influenced by the overlapping identity with cultures, especially so in the Haitian, American and British folk influences that colour her sound.   
Germa performs as a solo artist, and also collaborates with musicians and vocalists from many different backgrounds and genres.  'captivating and honest', Folkroom London
TwoMan Ting (Sierra Leone / UK)
Thursday 1st September
Doors 7.30pm
Entry £5
Drummer Jah-man Aggrey, from Sierra Leone and guitarist Jon Lewis formed TwoManTing in 2004 when playing together as part of dance band, Le Cod Afrique, at venues such as Montreux Jazz Festival and WOMAD. The duo became a hit on the UK festival circuit with their brand of bouncy "Sunshine Afro-roots". 
Using guitar, live loops and percussion the duo creates a highly danceable full band sound. They have performed extensively and their music is often featured on BBC Radio 3 and 6Music. Shows feature palm-wine, acoustic dub and highlife grooves with thoughtful and thought-provoking lyrics. 
Muha (Ukraine / Latvia / UK)
Thursday 3rd November
Doors 5.30pm      Start 6pm
Entry £5
Tickets on sale soon!!!
MUHA is an established Eastern European Contemporary Folk band from Nottingham, UK. Formed in 2006 when Ukrainian born musician, singer, songwriter Iryna Muha moved to Nottingham and met Latvian rock legend Dmitry Fedotov, guitarist and artistic director. 
Together with Louise Fedotov-Clements on bass and Nikki Mckenzie percussion MUHA offers an enthralling fusion, combining the melodic beauty of Eastern European folklore, North Indian Kathak rhythms, Cuban beats and original lyrics, they mesmerise with a musical feast rooted in the Slavonic tradition but cultured from the world.
They are releasing their single Strela to kick off the exciting new music season, with extra zest and joy.  "Strela - An Arrow, is inspired by a Folk tale The Frog Princess where the Father King asks his three sons to shoot an arrow and find their fate at the place where it lands." Written by Iryna Muha, arranged and recorded by Dmitry Fedotov. 
.
Hosted by Celebrating Sanctuary Birmingham in partnership with 1000 Trades. With special thanks to Arts Council England(ACE).