CSB - Lunchtime Concerts at Symphony Hall (B:Music) 2021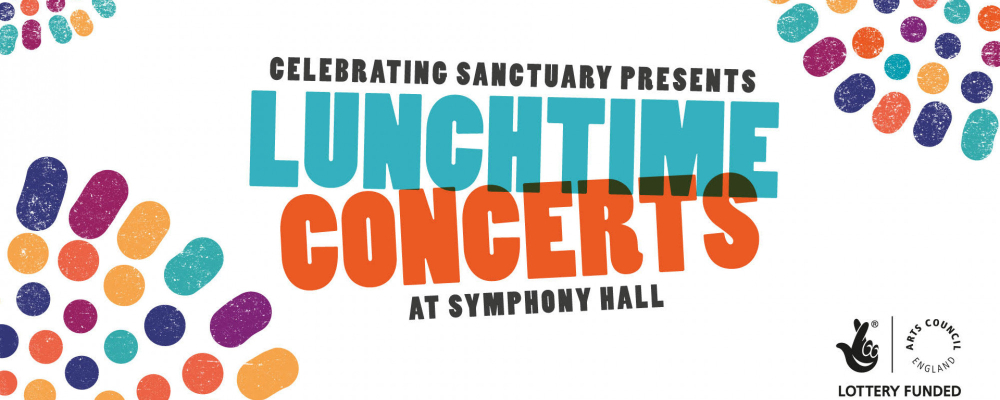 Celebrating Sanctuary Birmingham - Lunchtime Concerts at Symphony Hall
Celebrating Sanctuary Birmingham (CSB) embark on new series of free lunchtime events in partnership with THSH.  Once a month CSB will be presenting some amazing World Music artists from across the country, in the newly refurbished Symphony Hall Foyer.  CSB will bring you music originating from around the world including: Senegal, Zimbabwe, Guinea Bissau, Haiti and Iran. 
Thursday 21st October – 1pm
Kadialy Kouyate (Senegal)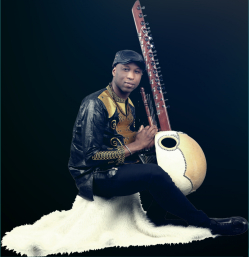 The series starts with Senegalese Kora Maestro Kadialy Kouyate, who is descended from a great line of griots dating back to the 13th century.  Kadialy's kora playing and singing style have been appreciated in many ensembles and institutions, enriching the London music scene with his griot legacy.  He has played at venues and festivals across the world, released several albums, and makes regular radio and television appearances, including "Later with Jools Holland" and "BBC Focus on Africa". Kadialy Koyate draws on his heritage and its traditional songs to create his own mesmerising compositions.
.                                                  
Thursday 25th November – 1pm
Millicent Chapanda (Zimbabwe)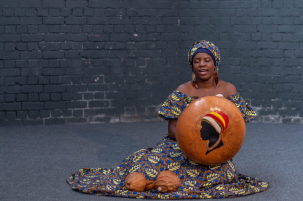 Millicent Chapanda is a Zimbabwean musician and creative cultural artist, mbira player, singer dancer and percussionist.   A captivating and spellbinding performance of Mbira and song, with engaging rhythms from the deep cultural well and heritage of Zimbabwe. Millicent is a proud cultural artist whose music goes deep into the ancient Shona heritage.
.
.
Celebrating Sanctuary Series Launch  At Symphony Hall
Saturday 11th December  2pm-4.30pm
Be a part of something new! Join us for the launch of our new series of concerts at Symphony Hall, which will be running until Summer 2022.  This event will be a first for CSB as we are filming it to be broadcast later, but you can be in the live audience.  This promises to be an exciting event with some of our favourite artists.  We are showcasing 4 acts:
Kuda Matimba & Harare (Zimbabwe)
Nifeco Costa & Babock Djazz (Guinea Bissau)
Germa Adan (Haiti)
Ava (Iran & UK)
The event will be presented and compared by Sid Peacock and Millicent Chapanda, both are part of the CSB team and also musicians in their own right.  Sid & Millicent will also be performing a song together.
About the Artists
Kuda Matimba - Harare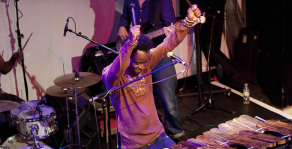 Harare are fronted by the exuberance and charisma of virtuoso marimbist, Kuda Matimba, former member of Zimbabwe's legendary Bhundu Boys.  Harare feature a groundbreaking line-up, mixing the buzzing acoustics of the Southern African rich-toned marimba, mbira, ringing jingling guitars, swooping basslines, irresistible dance rhythms and uplifting vocals.
Harare celebrates both the past and the future of African dance music and brings a spectacular mix of Southern African musical styles. Kuda believes in the importance of preserving one's heritage through music and performs in the Shona language of Zimbabwe.
Nifeco Costa & Babock Djazz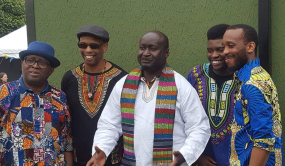 Nifeco Costa is a singer and guitarist from Guinea Bissau, West Africa, who came to the UK via Portugal, where he spent several years performing many events, festivals and making television appearances. Now based in the UK Nifeco has formed the band "Babock Djazz", bringing together local musicians with origins from around the globe.  Nifeco brings beautiful melodies, a sweet voice and an infectuous Latin groove, guaranteed to get people dancing!  He has become a regular contributor to the CSB programme and was also involved in a collaboration with Surge Orchestra at MAC.
Germa Adan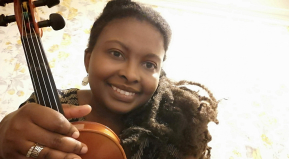 Germa Adan is a Haitian folk artist known for her ability to write and perform in the style of a storyteller with a strong undercurrent of social consciousness at the heart of her music. She writes and  performs a tapestry of ethereal vocal and stringed harmonies, influenced by the overlapping identity with cultures, especially so in the Haitian, American and British folk influences that colour her sound.   Germa performs as a solo artist, and also collaborates with musicians and vocalists from many different backgrounds and genres.  'captivating and honest', Folkroom London
Ava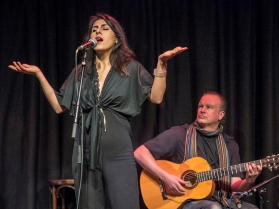 Ava is an Anglo-Persian group who play mainly original compositions, a fusion of Persian vocals accompanied by kora and flamenco guitar, violin, flute and hand percussion. Mina Fatemi, the vocalist, sings in her native language, Farsi, with an emotive and poetic delivery that never fails to move the audience.  John Berry has an extensive history of musical collaborations, having played in Salmagundi, a World Music ensemble, with Sura Susso - a West African griot from The Gambia, as well as many other musicians.
. 
CSB is a diverse music and arts organisation with a mission to support, promote and develop artists from refugee and migrant backgrounds. 
More artists for 2022 will be announced soon, stay tuned for updates.
Celebrating Sanctuary is supported by Arts Council England
Series Launch Events - To find out more click here