Loop the Loop Artist Residencies 2018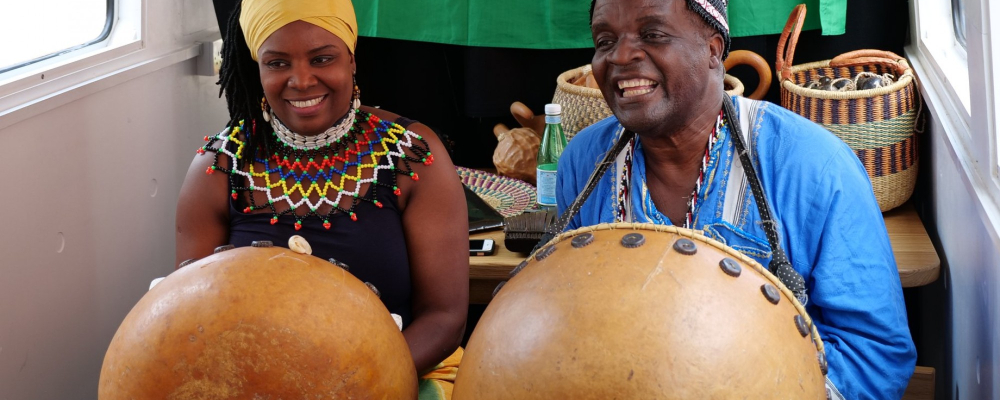 IKON Slow Boat, 9th-20th July 2018

The 2 week residency with Ikon on the Slow Boat was an exciting and intriguing experience. Really not knowing what to expect it was amazing to watch the artists deliver a diverse programme of activities. Starting off with the 'Meet The Artists' event on 20th June, during Refugee Week, which really gave us a feel for the boat and gave those attending a chance to meet some of the artists and hear music performances from Millicent Chapanda and Kadialy Kouyate.
Ben Pathy and Alpha Elema from Afro Mio started off the residency with 2 drop in sessions on the boat. Ben shared with us aspects of his cultural history and music from his homeland, introducing us to traditional instruments. The group learnt songs in Kikongo, the indigenous language of Angola and Congo and listened to how Afro Mio had developed one of these songs into their own. Many of the group returned both days and thoroughly enjoyed the experience. On the Thursday of week 1 we had 2 boat trips along the canal, one with a group of refugee women from Hope Projects and one with the Ikon youth Group. Afro Mio performed music for the groups to listen to along the canal. 
Millicent Chapanda and Chartwell Dutiro took over in week 2 and shared with us aspects of Zimbabwean culture and history. The explained the heritage of Mbira music and its place through history in Zimbabwean Society and culture. Over 2 drop in sessions participants learnt about the instruments Mbira and Shakers, their history and how they are made. The group learnt about Shona traditions and listened to the spiritual Mbira music. Millicent and Chartwell got the group singing in Shona, playing the shakers and even dancing on the boat. We had people returning from the first week and many new faces too.
The residency came to a conclusion on Friday 20th July, when we held a community concert at St John St Peter's Church in Ladywood. The event was a great success with a full house. We had performances from Millicent and Chartwell and Afro Mio with their 4 piece band. We even had a few participants from the sessions who got up to sing one of the songs Ben had taught them in Kikongo. People were up and dancing and joining in with singing. It was a great event and a great climax to the residency.
This has been an amazing and inspiring experience for Celebrating Sanctuary and for the artists involved. We loved working with the team at Ikon, who were brilliant and made all of the artists and participants feel welcome and relaxed.
'The events allowed me to widen my horizons and explore new music.' (participant)

'In my opinion the project was a success as it was well received by a diverse audience of varying ages from the community. The fact that this was held on an unusual space, a 'slow moving boat' on the canal at Brindley Place added to the excitement, exploration and sharing of our culture traditions and musical practices in a relaxed atmosphere that engaged all on board to participate.' (Artist - Millicent Chapanda)

'The atmosphere was very cosy. The audiences were open minded to the Shona culture of Zimbabwe. Some people had not seen the mbira instrument before and were fascinated by the music and its Cultural context history. The combination of workshops and performances made the whole experience memorable. The audience participation was a highlight. It was uplifting for me to experience people from different cultural backgrounds singing in Shona language from Zimbabwe. This was a typical example how music can build bridges between people and cultures. Thanks to this platform created and facilitated by the special collaboration between Celebrating Sanctuary and Ikon Gallery. We need more open spaces like this which brings people together to celebrate similarities, differences and top practice empathy. There is a Shona proverb that says:
If you can talk - You can sing
If you can walk - You can dance
Or you can just sit and reflect to the intricate beauty.
It was a splendid little event full of vibrant open minded people inspired by a diverse cultural mix!' Artist- Chartwell Dutiro
https://www.ikon-gallery.org/event/meet-the-instruments-celebrating-sanctuary-2/?platform=hootsuite