CSB Refugee Week Festival 2019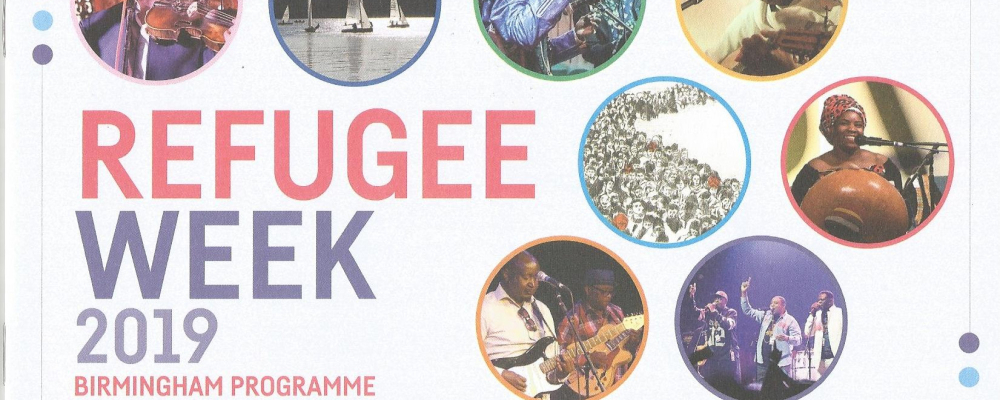 Development of Birmingham Refugee Week Network (BRWN)
Through 2018 - 2019 we brought together people from the arts, culture, community and refugee support sectors for form a network. Working together to develop a programme leading up to and during Refugee Week across Birmingham and collectively raising the profile.
Refugee Week
2019 was the biggest and most diverse festival to date with a much wider range of events by us and members of the network. Our own programme included a number of partnership events across the city, and new types of events. Throughout Refugee Week we worked with most major city arts venues and in community locations and initial accommodation hostels. We had Cllr John Cotton (Birmingham City Council Labour Councillor for Glebe Farm and Tile Cross) Cabinet Member for Social Inclusion, Community Safety and Equalities, give presentations at 2 events, Launch and Seminar.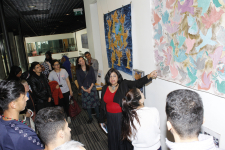 CSB Refugee Week Programme 2019      
Refugee Week Launch & Exhibition Launch
Library of Birmingham, Mezzanine Cafe (Friday 14 June)
Celebrating the launch of Refugee Week 2019 with presentations, performances and a chance to see the launch of a new exhibition.
Refugee Week Exhibition - A Syrian Journey
Library of Birmingham, Mezzanine Gallery (Friday 14 June - Friday 19 July)
An artwork showing the lives of Syrian Refugees in Birmingham. The artwork was created by Syrian Refugees together with lead Artist and Activist Salma Zulfiqar of ARTconnects..
Seminar - What is Refugee Week and Why Do Celebrate it?
CSB In Partnership with IKON Gallery (Monday 17 June)
Members of the BRWN present their programmes for this year's festival, and raise awareness of some important current issues and campaigns with: presentations, refugee experiences and performances by refugee artists.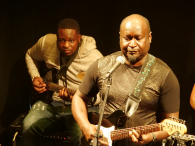 Music Events at different locations  
Nifeco Costa & Babock Djazz
Library of Birmingham - Children's Library (Saturday 15 June )
Nifeco Costa, singer / guitarist from Guinea Bissau with full 6 piece band Babock Djazz.
Stone Road Hostel for Asylum Seekers (Wednesday 19 June)
CSB in partnership with Migrant Help & Birmingham City Council
Performance from Nifeco Costa, Drumming workshop with Mark Robertson, and ARTconnects workshop with Salma Zulfiqar
Birmingham Museum & Art Gallery - Communities & Network event
CSB In partnership with Near Neighbours (Thursday 20 June)
Music and spoken word in The Round Room from Millicent Chapanda & Henri Gaobi, Zirak Hamad, Ahmed Magare and Writers Without Borders, stall and activities.
Afrikan Fusion Workshop - Millicent Chapanda & Henri Gaobi
Symphony Hall Foyer (Friday 21 June)
Multicultural music and dance workshop, drumming, singing, dance and movement creatively designed to celebrate diversity and international journeys of migrants.
Rush Hour Blues - Africa Calls Trio - Symphony Hall Foyer
CSB In partnership with Jazzlines (Friday 21 June)
A collaboration with Millicent Chapanda (Mbira player, percussionist and singer from Zimbabwe), Henri Gaobi (Master Drummer from Ivory Coast), and Malick Kouyate (Kora player from a line of Griots in Senegal).
Elmwood Church - Refugee Week Celebration
Handsworth Wood (Saturday 22 June)
An afternoon of workshops and performances to celebrate Refugee Week, with:
Daholl Kurdish Band, led by Zirak Hamad.
Millicent Chapanda - Zimbabwean Mbira player and Singer
Hassan Salih Nour - Sudanese Ood player and Singer
Drumming Workshop with Mark Robertson, ARTconnects Workshop with Salma Zulfiqar
L'Orchestre Afrisa International
CSB in Partnership with MAC
MAC Birmingham - Main Theatre (Saturday 22 June)
L'Orchestre Afrisa International - The legacy of the great Congolese Rumba singer Tabu Ley Rochereau is respectfully carried on by a stellar lineup of his ex musicians, under the direction of saxophonist Modero Mekanisi. A lineup of 1o musicians performed songs from the Rumba era, with Mbilia Bel and Wawali Bonane recreating the harmonies; guitarist Huit Kilos and legendary bass player Ngouma Lokito. With support from Didier Kisala
Refugee Week Festival at MAC (Sunday 23 June)
CSB in partnership with MAC Birmingham
A free family event with live music, workshops (drumming, arts and crafts) face painting, stalls and activities. Performances from:
Afromanding, Cessie Djamba (with Khalifa Conte - Master Drummer from Senegal, Hassan Salih Nour , Germa Adan, Afro Mio, Daholl Kurdish Band, Nifeco Costa and The Redeemed. Also joined by young people from The Bosnian Dance Group, Congolese Youth Music Group and MMM (Multi-Cultural Music Making) Group.
Workshops & Activities from: Salma Zulfiqar - ARTconnects, Thomas OFlaherty - Salsa Dance, Mark Robertson & kalifa Conte - African Drumming, Shelanu - Arts & Crafts, Fahim Zazai - Kite Making, Saras Facepainting Parlour
Stalls and information from: Asylum Matters, Restore, Hope Projects, Migrant Help, BIRCH Network, Refugee & Migrant Centre, Shelanu
Refugee Week Partnerships
Grants from Birmingham City Council and John Feeney Trust in addition to funding from ACE, enabled us to broaden the activity across Birmingham for Refugee Week 2019 and to support events and projects by members of the BRWN. Also to raise the profile and awareness of Refugee Week in Birmingham through development of a brochure and additional promotion. It also enabled access to more refugees and asylum seekers, as performers, audience and participants.
Refugee Week Brochure
27 Organisations and groups benefited via the Brochure and wider promotion:
CSB, LoB, GAP Arts, Ikon, MiFriendly Cities, KHAR, Black Arts Forum, Handsworth Creative, Midlands Sailing Club, St Chads Sanctuary, Carrs Lane Church, Asylum Matters, BCC, BMAG, Near Neighbours, The Bike Project, Afrikan Fusion, THSH, BIRCH, City of Sanctuary, Elmwood Church, MAC, Bosnia UK Network, ARTconnects, Shelanu, Entraide.
Presentations, performances and workshops
Migrant Help - Stone Road Hostel
Drumming workshop - Mark Robertson / ARTconnects workshop - Salma Zulfiqar
Performance from Nifeco Costa
Congolese Youth Group
Music sessions - Didier Kisala
Didier Kisala, Junior Mulumbu & Alpha Elema - with Congolese Youth Group - MAC
LoB - RW Launch & Ikon - Seminar
Ahmed Magare - Spoken Word Performances - RW Launch (LoB) & Seminar (Ikon)
Zirak Hamad - Performance and presentation - RW Launch (LoB) & Seminar (Ikon)
Esther Bakari - Refugee Presentations - RW Launch (LoB) & Seminar (Ikon)
Salma Zulfiqar - Spoken Word Performances - LoB, Ikon Seminar
BMAG, Elmwood Church, MAC, THSH
Performances and workshops to support and enhance events
Partnerships later in the Summer:
ALBA LBT - Summer event picnic in Cannon Hill Park - workshop - Millicent Chapanda

Asylum Matters - Lift The Ban event - Carrs lane Church - Performance - Zirak Hamad

Women With Hope - Ikon Slow Boat - Performance & Workshop - Zirak Hamad & Millicent Chapanda

Hope Projects - Ikon Slow Boat - Performance & Workshop - Germa Adan & Zirak Hamad

Restore Men's Group - Ikon Slow Boat - Performance & Workshop - Millicent Chapanda & Henri Gaobi

Syrian Refugee Group - Ikon Slow Boat - Performance & Workshop - Millicent Chapanda & Zirak Hamad

Restore - Summer event - Workshop and performance - Zirak Hamad

Remembering Srebrenica- Birmingham Cathedral performances - Millicent Chapanda & Iryna Muha

Bearwood Action For Refugees - Procession of Light event - Warley Woods - Millicent Chapanda

ARTconnects workshops at LoB, Ort Gallery, Bosnia House, Golden Hillock ESOL Group