Culture Connect Community Project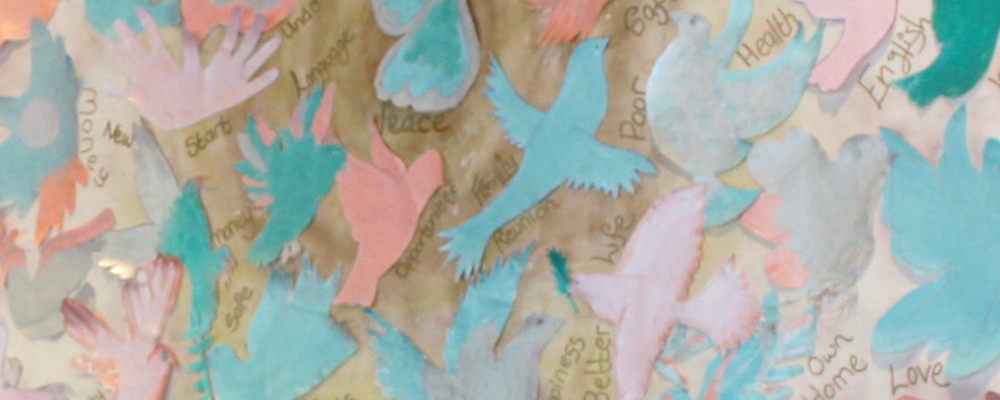 Culture Connect
Community Project with Syrian Refugees
Funded via BCC SVPRS
A commissioning fund set up by Birmingham City Council (BCC) to enable opportunities for Syrian refugees who have been welcomed into the city as part of the Syrian Vulnerable Persons Resettlement Scheme (SVPRS).
Culture Connect was a project which engaged with Syrian refugees and families over a 9 month period through creative arts.
The aims of the project were:
To bring people together through music and arts activities, to learn new skills, improve English, meet and mix with new people, and to work towards a performance or exhibition
To deliver a series of gentle arts sessions and workshops working towards community sharing events
To present artists, predominantly refugees and migrants, to perform to participants - offering peer to peer encouragement, plus opportunities to explore arts and music at different venues and locations
To bring people from different backgrounds together and provide a safe environment for them to engage, open up and de-stress
To introduce ESOL through Spoken Word sessions, arts and crafts, music and other activities
What was delivered & achieved
Lead Artists Sessions

ARTconnects with Salma Zulfiqar
Art Workshops - creating artwork for exhibition
Exhibition and launch event
Art Workshops - creating art through discussion around themes such: Women Rights, Equality, British Culture, What they like about Birmingham etc.
Music, Song and Dance with Zirak Hamad
Music workshops - exploring instruments, listening skills and performance skills
Creating a performance piece with percussion, guitar, Kurdish song and dance, and performing in front of an audience
Additional Workshops:
Guitar and singing with Germa Adan - Guitar lessons learning basic chords and playing techniques, learning a song to perform at the final event
Drumming workshops with Mark Robertson
Making Bunting and pom poms with Jane Thakoordin
ESOL activities with volunteer Samah Karwi - activities to help improve Language
Visits to Events and Trip out
A Slow boat trip in partnership with Ikon - music workshop and performance on the canal with Zirak Hamad and Millicent Chapanda
A group visit to Muzikstan Festival - took part in hoola hoop, drumming and salsa dance workshops and listened to live music
Trips to Refugee Week events at: BMAG, LoB, MAC - listened to live music performances - took part in art and salsa dance workshops
Community Events
We held 3 community events at Elmwood Church with:
Syrian Ood player, Rihab Azar and percussionist, Jamal Al Sakaar
Sudanese Ood player and singer, Hassan Salih Nour
Zimbabwean Mbira player, percussionist and singer, Millicent Chapanda
Haitian musician and singer, Germa Adan
Daholl Kurdish Band
Artistic Outcomes
Artwork - A Syrian Journey - by Salma Zulfiqar and the group
Exhibition at LoB - 15th June - 17th July 2019 (Launch in Refugee Week)
On Display at Spring Housing Offices 13th - 22nd November 2019
Short Film - Spoken Word by Salma Zulfiqar and the group "We Are Searching For Life" - Filmed and edited by Supporting Artists Elaheh Nadali & Kia Aria
Film Showings at Handsworth College and in RSA in London on 29th November
Live Music and Kurdish Dance Performance by Zirak Hamad and the group
Guitar performance and song
How many people we reached through the project:
In total 116 people participated in sessions during the project, this included:
Taster sessions at: Elmwood Welcome, Elmwood Lunch Club, Lozells ESOL group
Stand-alone sessions at: Handsworth College, LoB, MAC, BMAG, Slow Boat
Throughout the project, we involved around 35 participants in the Regular sessions at Elmwood Church, with a core group of between 12-15, who attended most sessions. We had some low attendance, but the biggest group was around 20, 32 at Handsworth College, with 40 at one of the taster sessions, and 60 at an event.
In total, we delivered 71 artist sessions/workshops run by 5 artists and 8 ESOL sessions run by a volunteer
Our community events brought in audiences of around 110, predominantly refugees
Refugee and asylum seeker audiences across other events connected with Culture Connect were approx 300.
Wider audiences across the programme reached around 3500, including Exhibition and Launch at LoB, Performances with artists involved at MAC, BMAG, Muzikstan, Slow Boat, Elmwood x 3, Rihab Azar at Ikon & Elmwood, Film Showing at Handsworth College and London event, Artwork at Spring Housing and Handsworth College.
Performing Artists:
Participants engaged with 9 events- 3 at Elmwood - 6 at other venues (LoB, BMAG, Ikon Slow Boat, MAC, Centrala, Ikon)
Rihab Azaar & Jamal Al Sakaar - Syrian Ood Player and Percussionist
Rihab Azar Trio
Kurdish Daholl Band
Zirak Hamad - Kurdish Musician
Germa Adan - Haitian Musician
Millicent Chapanda - Zimbabwean Musician
Hassan Salih Nour - Sudanese Musician
Shadowing Artists and Volunteers
We had 2 shadowing artists on the project, one of who was a refugee. They were both a real asset to the project, and bonded really well with participants, helping to create a great atmosphere. They supported lead artists and helped in many aspects of the project. We also had support from refugee artist Kia Aria, who was involved with video work and photography, and from a volunteer asylum seeker, who being fluent in Arabic and English, was able to help with communication, and ESOL activities to help participants.
Co-ordinators Feedback
The key benefits of the work were:
Overcoming their barriers to participate - travel - making it easy for them to get places, language - finding ways to communicate
Feeling comfortable and safe - learning to trust us and like us, we all got on really well, and became very close. As a result they would attend any event we invite them to, as long as we helped with travel
Having a chance to be together and socialise as many are connected but live far away from each other and have limited resources
Having the chance to mix with people outside of their culture, in particular us, who they got to know well, this in turn helped them to improve their English
It was great to see the group enjoy each others company, and take part in some positive and inspiring activities together, such as artwork, painting, crafts, and some that are a little more challenging, like singing, the idea of being filmed or performing, which they got used to and in the end were excited about doing. They were happy to perform and 3 or 4, were very keen to sing. Also a group were happy to take part in the Spoken Word Film and contribute to the piece, some overcoming their initial reservations.
The process of creating the artwork was a really nice way to start the project, as we all sat around a table together drawing and painting "Peace Birds" for the final artwork. It was a very therapeutic process and really brought people together as they could chat while they worked. Some had no previous art skills and had never held a paintbrush before, but enjoyed the process. They were very excited to see the final artwork on display at the Library and attend the launch event in Refugee Week.
The final performance was a great success, with 13 of the group performing. One young woman, who was quite shy to start with stood in and sang the part which her mother was going to sing, as she was unwell. Also she and 2 others performed a song they had been working on with Germa "I'm only Human". Overall their enthusiasm and commitment to the project and performance have been really exciting to see, especially in light of recent tragic issues in Syria, which has been a distraction for them. Some of the group made a real effort to be there during what was a difficult time for them, and this was a lot to do with their commitment to us and the project.
Feedback from Pat Nimmo at Elmwood Church who hosted the project:
"The Syrian Community were energised by their involvement in this project. It gave them recognition and it was good to see them performing, singing, dancing and laughing! "